Forum Fools
---
Folks, I don't know where these people come from or how they find me (in an appliance repair website of all places!), but they seek me out like June bugs on a flood light. Here's proof that reality is indeed stranger than fiction.
Kitchen Fools

Laundry Fools

Small Appliance Fools

Moostafa--likes animals and children in a very, umm, special way.


Dierdre Holmes--"PETA" activist threatened to close the forum if I didn't change my banner.


Mrs. Charles Corey--needed her oven fixed, and I think something else, too...

Natalie Cervello--uses her "psychic gift" to perceive that her fridge compressor is about to self-destruct.



Bob--he's an alcoholic and all the references to beer better be removed from the forum...or else!


Dizzy-Dazey--can't stop whining and babbling long enough to fix her washer.


Priscilla--her washer ate her bra and she hates men.



Scrub Daddy--trying to repair a very personal small appliance.


Mr. Harvey--Oops! Looks like Grandpa forgot his prozac again.


---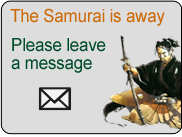 Podcast | Live Help | Buy Parts | Repair Forum | Beer Fund | Cool Stuff | Home
---

Your Appliance Guru:
Samurai Appliance Repair Man

URL: http://www.fixitnow.com
© copyright 1997-2004 Live It Up LLC
No part of this website may be reproduced or copied without the prior written permission of Live It Up LLC.